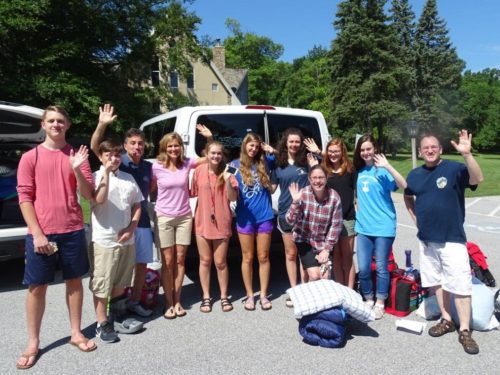 Youth Group
Calling all St Francis High Schoolers!
The St. Francis Youth Group exists to give our high school-aged youth an opportunity to come together in a safe and relaxed setting so they can grow, connect with God, connect with each other and serve people in need.
From January through May, the Youth Group keeps busy meeting every other Sunday. Meetings include lessons, discussion, activities, games and outings. Any questions? Please contact Youth Group Leaders Tom & Laura O'Brien and Dave & Noel Dutton.
Some of our Activities and Opportunities 2018-2019:
• Overnight Lock-in at St. Francis
• Hayride
• Shopping for Thanksgiving to serve the homeless
• Christmas Caroling
• Ornament Sale
• Bake Sale
• Escape Room
• Help Squad Talent Auction!
• St. Patrick's Day party
• Babysitting Night
• Mission Trip to Logan, West Virginia: June 23-28, 2019


The 5w's of Youth Group
WHO: All St. Francis high school teenagers are welcome ~ they can even bring a friend along to attend meetings and go along on the mission trip!
WHAT: Meetings with dinner, lesson/discussion/game or team-building activity. Topics: World religions, Faith / Doubts, Self-image / Acceptance, Stress / Fears / Friends / Relationships, Social Media, Difficult People. Activities: Youth Group members help decide all activities.

WHERE: The home of the Youth Group Leaders. Events are held at the Church and activities are held at various locations.
WHEN: Every other Sunday, mid-September through early June.
WHY: So we can come together in a safe, relaxed setting to learn about ourselves and each other. To share things in our lives we struggle with and find ways together to overcome them. To talk openly about our faith and help each other stay connected to God in our own way. To be instruments of God's peace in the world.