~ Please join us for Sunday Worship ~

8 am Holy Eucharist Rite II
10 am Holy Eucharist Rite II - in-person and livestreamed

---
Join us for Holy Communion Rite II on Sundays at 8 am and 10 am.
We are live-streaming our services at 10 am.
---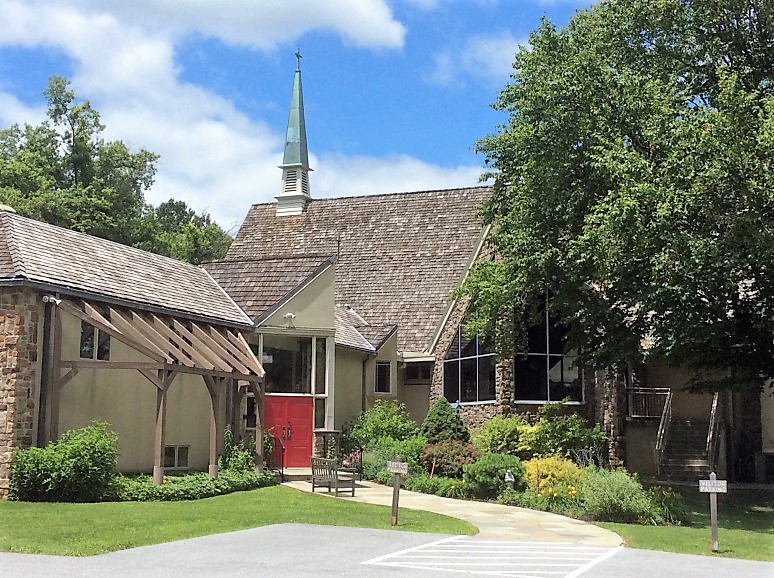 St. Francis-in-the-Fields is located in the Historic Sugartown area of beautiful Chester County, PA. In 2017 St. Francis celebrated its 60th anniversary as an active, vibrant and welcoming home. Please join us on our journey of faith for the next 60 years!
St. Francis is a parish in the Episcopal Diocese of Pennsylvania, a member of The Episcopal Church, and part of the worldwide Anglican Communion.
Parish office hours: 9 am to 2 pm, Monday - Friday
Our People
Clergy & Staff
The Rev. Kevin Dellaria, Rector
The Rev. Diane Faison, Deacon and Parish Administrator
Joseph Perry, Minister of Music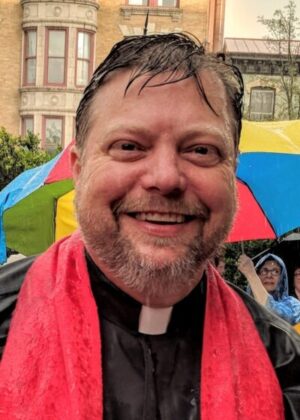 Our Rector
Fr. Kevin was born and raised in Houston, Texas, committing his life to Christ in 1987 when he was 14 years old. Along his faith journey, Kevin completed undergraduate and graduate degrees in Bible and Religion at Hardin-Simmons University (Abilene, TX). After several years in the world of corporate health insurance, Kevin followed God's call to ministry by pursuing a Master of Divinity degree at the Seminary of the Southwest (Austin). Ordained to the priesthood in The Episcopal Church in 2008, Father Kevin served three parishes in Texas before accepting the call as Rector of St. Francis in 2016. Fr. Kevin and his wife, Donna, live in Paoli, PA, and have three active children. In 2021, Kevin and Donna will celebrate their 25th year of marriage.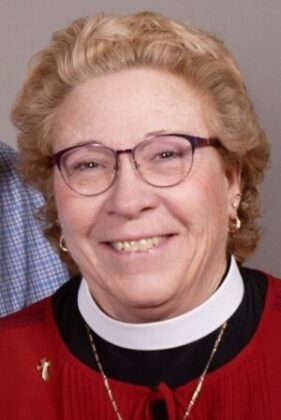 Our Deacon
---
Our Logo
Embracing the essential heart of the Prayer of St. Francis --
Lord, make us instruments of your peace
-- and borrowing from our beautiful natural setting, our logo conveys our story through the combination of three simple, relevant images: the Cross of Christ and the dove of peace embedded in a leaf, a symbol of God's beloved creation.
The Prayer of St. Francis
Lord, make me an instrument of thy peace.
Where there is hatred, let me sow love;
Where there is injury, pardon;
Where there is doubt, faith;
Where there is despair, hope;
Where there is darkness, light;
Where there is sadness, joy.

O divine Master, grant that I may not so much seek
To be consoled as to console,
To be understood as to understand,
To be loved as to love;
For it is in giving that we receive;
It is in pardoning that we are pardoned;
It is in dying to self that we are born to eternal life.
Stewardship
Our Stewardship Committee has prepared these excellent essays on the meaning of Stewardship.

Please click on each title to read:
---
St. Francis of Assisi (1181 – 1226)
---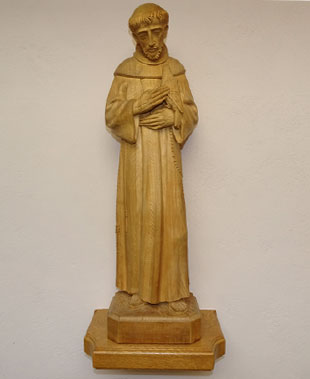 Francis of Assisi was a poor little man who astounded and inspired the Church by taking the gospel literally—not in a narrow fundamentalist sense, but by actually following all that Jesus said and did, joyfully, without limit and without a mite of self-importance.
From the cross in the neglected field-chapel of San Damiano, Christ told him, "Francis, go out and build up my house, for it is nearly falling down." Francis became the totally poor and humble workman.
He must have suspected a deeper meaning to "build up my house." But he would have been content to be for the rest of his life the poor "nothing" man actually putting brick on brick in abandoned chapels. He gave up every material thing he had, piling even his clothes before his earthly father (who was demanding restitution for Francis' "gifts" to the poor) so that he would be totally free to say, "Our Father in heaven." He was, for a time, considered to be a religious "nut," begging from door to door when he could not get money for his work, bringing sadness or disgust to the hearts of his former friends, ridicule from the unthinking.
But genuineness will tell. A few people began to realize that this man was actually trying to be Christian. He really believed what Jesus said: "Announce the kingdom! Possess no gold or silver or copper in your purses, no traveling bag, no sandals, no staff" (see Luke 9:1-3).
Francis's first rule for his followers was a collection of texts from the Gospels. He had no idea of founding an order, but once it began he protected it and accepted all the legal structures needed to support it. His devotion and loyalty to the Church were absolute and highly exemplary at a time when various movements of reform tended to break the Church's unity.
During the last years of his relatively short life (he died at 44) he was half blind and seriously ill. Two years before his death, he received the stigmata, the real and painful wounds of Christ in his hands, feet and side.
On his deathbed, he said over and over again the last addition to his Canticle of the Sun, "Be praised, O Lord, for our Sister Death." He sang Psalm 141, and at the end asked his superior to have his clothes removed when the last hour came and for permission to expire lying naked on the earth, in imitation of his Lord.
From Saint of the Day
Franciscan Father Leonard Foley (1913-1994) was the editor of Saint of the Day, and author of many other books, and articles for Catholic Update, Youth Update and St. Anthony Messenger.
by Leonard Foley, O.F.M.