Upcoming Events
Fellowship Dinners: April 27
Day of Service: May 4
Malvern Blooms: May 5 from 11 am to 4 pm on King Street and in Burke Park, Malvern
Brown Bag Lunch: May 7 at noon
Finance Committee meeting: May 7 at 7 pm
Vestry meeting: May 14 at 7 pm
Ongoing Events
The Rector's Study: : Sundays at 11:30 am
Bible Study: Wednesdays at 10 am, followed by Holy Eucharist
Choir Rehearsal: Thursdays at 7 pm
---
Book Group

The April Book Group will held on Friday, April 12 at 7:30 pm (note: this is the 2nd Friday in April). The book is A Man Called Ove by Fredrik Backman. A grumpy yet loveable man finds his solitary world turned on its head when a boisterous young family moves in next door.
The Rector's Study: Made for this World: Creation, Humanity, and the God-Centered Life
The Rector's Study returns Sunday, April 28 at a new time, with an exciting, new 4-part series presented by Fr. Kevin.
Each session of the study will be about 45 minutes long. For those who cannot be in attendance, these will be recorded and placed online.
For addtional information, click
here
.
---
Brown Bag Lunch

On Tuesday, May 7 at noon, long-time parishioner Tony Fernandes will speak about birdwatching. Tony has been participating in and leading birdwatching activities with the Audubon Society and the West Chester Bird Club for more than 30 years.

In his presentation, Tony will give reasons why birding is so popular today and describe its many benefits. The presentation will include photos of some local birds and provide the audience with tips on bird identification. Tony plans to display some "tools of the trade" for anyone who has the time to stay after his presentation has ended.

Bring your lunch and join us! Beverages and dessert will be provided.
Lectionary Bible Study

Lectionary Bible Study is held each Wednesday at 10 am. The group typically reads and discusses the lectionary readings for the upcoming Sunday, followed by Holy Eucharist. All are welcome!

---
Joint Day of Service
St. Francis will join other area churches in a Joint Day of Service on
Saturday, May 4
. We will work together on community service projects such as preparing meals for the homeless, cleaning the grounds at a school for the blind, and packaging care kits for local children in need. Information about service opportunities and registration is located at
gc-serve.org
. Early registration is suggested. Parishioners need to register themselves individually.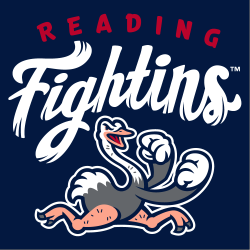 St. Francis Night at the Fightin' Phils!
St. Francis will once again sing the National Anthem at FirstEnergy Stadium before the Fightin' Phils take the field. Our date this year is
Friday, June 7
, 7:10 pm first pitch (singers arrive a little earlier). This well-attended annual event is a blast! No singing talent required!
Tickets are $10. Please make checks payable to St. Francis or make cash payments to Fr. Kevin or Diane. A sign-up sheet is in the Narthex (foyer).
Prayer Shawl Ministry

Prayer shawls are available in the library for pastoral use. Each one has a cross sewn on the bottom and a card with information about St. Francis on one side and a prayer on the other side: "May you who receives this shawl be cradled in hope, kept in joy, graced with peace and wrapped in love. Blessed Be!"

If you want to give a shawl to someone in need, please let Barbara Pearse or the church office know to help them keep track of the number of shawls available. We can always use more shawls. If you have one to donate, please contact Barbara for the cross and card to attach to the shawl.
Name Tags

The clear benefit of wearing your name tag on Sunday morning is that it helps us all learn to know each other better. In spite of knowing this, many of us simply forget. So, as the new year begins, the I-W-C Committee is going to help you develop the habit of wearing your name tag. Here's how it will work:

1. Pick up your name tag as you enter the building Sunday morning.
2. Wear it to the worship service and coffee hour.
3. When you're getting ready to leave coffee hour, take off your name tag and put it in the basket, which will be available at coffee hour on the table near the coffee pots. Name tags from 8 am and 10 am worshippers will go into the same basket - everyone has a chance to win!
4. Repeat steps 1-3 weekly. Diane will retrieve the basket and replace the name tags on the board in the narthex before the following Sunday.

Building new habits is hard. To encourage you to work on this one, we're creating a Name Tag Game. Every week when you wear your name tag and place it in the basket at the end of coffee hour, you are automatically entering yourself in a contest to win one of the new St. Francis mugs. Diane will randomly draw a winner each week as she replaces the name tags on the board in the Narthex. You have to play (i.e., Steps 1-4, above) to win a mug. And if you play, our St. Francis community wins, too.

If you do not have a name tag or you cannot find yours, please contact the church office.
Donation to West Chester Food Cupboard

In addition to donations from our vegetable garden, St. Francis collects on-going donations of non-perishable food items for the West Chester Food Cupboard. The collection box is in the corner of the Narthex (foyer) under the coat rack. As the donation box fills up, Michelle Samet and other volunteers take donations to the Food Cupboard. Donations are welcome any time.
How can you CONNECT with St. Francis?
by Cindy Claffey, IWC Committee
The Invite-Welcome-Connect Committee encourages you to consider how you can connect with St. Francis by joining a ministry or group. Opportunities abound for members, new and old, to get involved with the social, spiritual and service activities of our parish.
The IWC Committee has published a directory of ministries, which includes short descriptions of many groups within the parish, along with time commitments, contact information, and any training or background expectations. Look for this publication on the Welcome Table and the information table at the top of the steps in the Narthex. Or click here for
Easy Opportunities To Get Involved
.
Flowers on the Altar at St. Francis
Please help support the flower fund by remembering and celebrating people in your lives. It may be someone who is deceased, or someone celebrating a special event. After the 10 am Sunday service, we break down the altar flowers into bouquets that are delivered to those who are sick or need the smiles that flowers bring.
The flower donation is $50 for a week. Click
here
for the form to complete (or pick up a form at the back of the church) so we can acknowledge and celebrate your gift and people. For more information, please contact Sheila Rees.
Church Emails

Are you receiving the weekly Parish News that gets emailed to all parishioners each Friday? Do you receive the Fieldnotes newsletter each month? Are you receiving all the Special Anouncement emails? All these emails come via Constant Contact from St. Francis. If you are not receiving these emails, please contact Diane in the Parish Office at 610-647-0130. If you use Gmail, you may find the Constant Contact emails in your Promotions folder.

Pictorial Directory

Have you had your picture taken for the online pictorial directory? Having your picture in the directory is a great help for old and new members alike. It connects names and faces, increases involvement, and helps avoid some awkward and embarrassing moments!

If you have not had your picture taken for the online directory, please see David Brooks or Fr. Kevin. If you do not have access to the directory, please contact the parish office.