News and Notes
what's happening at St. Francis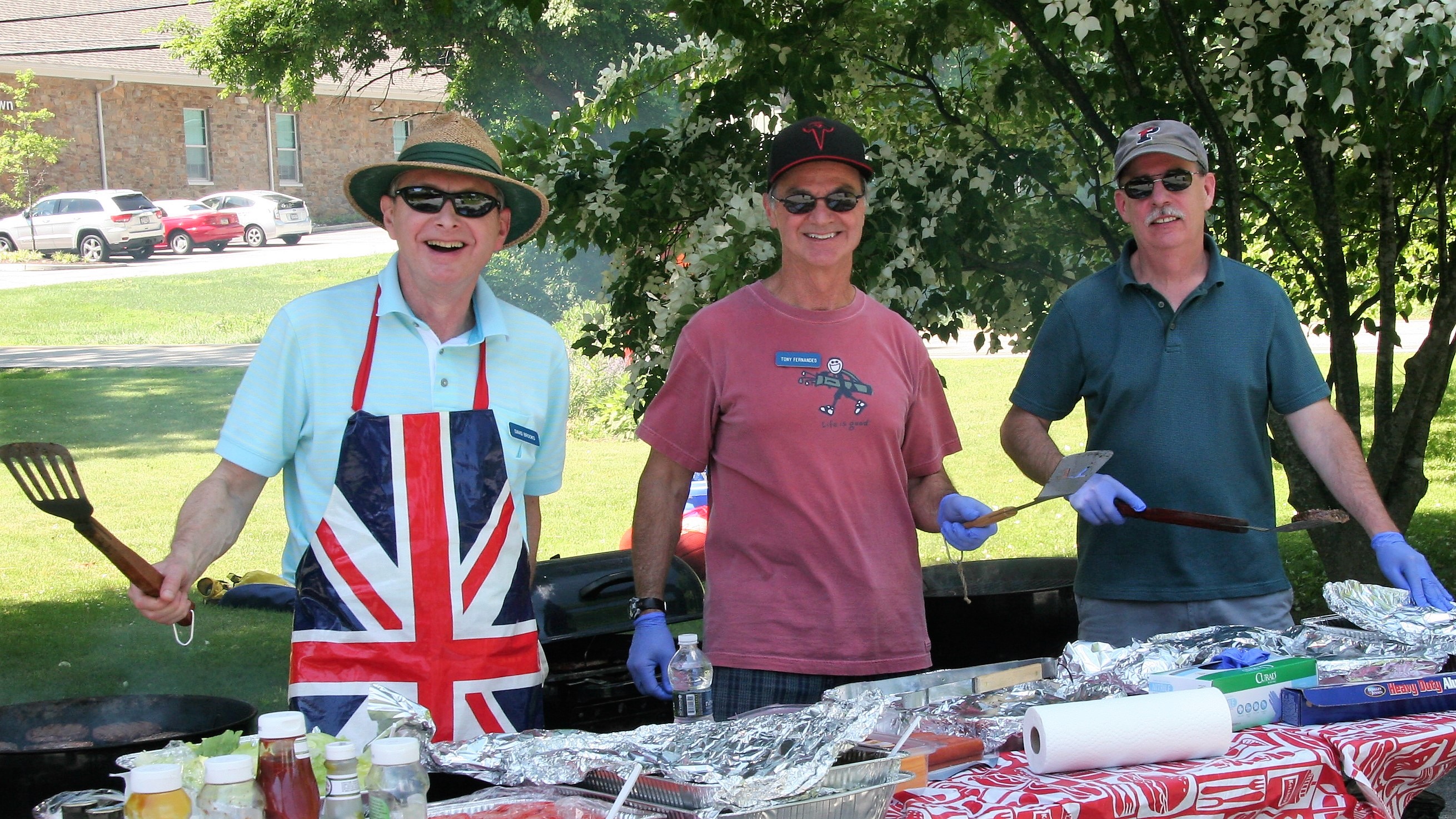 Upcoming Events
Summer Service Schedule: June 10 to September 2 - one service at 9 am
Guyana America Partners International Food Festival and Silent Auction: August 25 from 11 am to 3 pm
Malvern Oktoberfest: September 9 from 11 am to 4 pm at Burke Park in Malvern Borough
Ministry Fair and Ice Cream Social: September 16 following 10 am service
Art and Music Festival planning meeting: September 23 at 11:15 am
The Enneagram Journey begins: September 23 at 11:45 am
Ongoing Events
The Rector's Study: Tuesdays at 3:30 pm (resumes September 18)
Bible Study: Wednesdays at 10 am followed by Holy Eucharist (note: NO Bible Study August 15 and August 22)
Garden Time: Wednesdays at 4 pm (bring your gardening gloves and tools!)
Choir Rehearsal: Thursdays at 7 pm (resumes September 6)
Guyana America Partners, Inc. International Food Festival and Silent Auction
Friends of Guyana America Partners invite you to attend an International Food Festival and Silent Auction to be held at St. Francis-in-the-Fields on
Saturday, August 25, from 11 am to 3 pm
Donation: Adults - $15.00 Children under 8 yrs - $5.00
There will be face painting and indoor games for children with entertainment by Steel Pan music. Door prizes will be presented (winners must be present to receive prize.) Proceeds to benefit education of children and disadvantaged women in Guyana. Thanks for your continued support. For more information, please
visit our website
.
Lectionary Bible Study

Lectionary Bible Study is held each Wednesday at 10 am. The group typically reads and discusses the lectionary readings for the upcoming Sunday, followed by Holy Eucharist.

All are welcome!

NOTE: There is no Bible Study on August 15 and August 22. Bible Study will resume on August 29.
Malvern Octoberfest

Oktoberfest is Sunday, September 9 from 11 am to 4 pm at Burke Park in Malvern Borough. The event attracts people of all ages, lots of pets and has also been called "Bark in the Park." Fr. Kevin will be blessing dogs and other pets at our booth. If you love people, love pets, love community events...we want your help! The Invite-Welcome-Connect team at St. Francis needs volunteers of all ages for one hour shifts to greet people at the tent and to wear St. Francis T-shirts while at the festival. Please sign up in the Narthex. Questions - contact Anne Crowley.
The Rector's Study

The Rector's Study will resume on Tuesday, September 18 at 3:30 pm. Beginning with an introduction to personal spiritual types in September, the Rector's Study will move on to examine the ancient, three-fold path of Christian formation. After that, we will look at a select list of Christian practices, including such topics as silence and study. As we move deeper in 2019, we'll consider other aspect of spirituality, take a look at some helpful tools, and end with time spent developing a plan for further spiritual development. All along the way we will be engaging the scriptures, consulting our tradition, and learning to apply reason in the use of our faith.
Book Group

Friday, September 21, 7:30 pm
Are We Smart Enough to Know How Smart Animals Are? by Frans de Waal

Based on research involving crows, dolphins, parrots, sheep, wasps, bats, whales, and of course chimpanzees and bonobos, Frans de Waal explores both the scope and the depth of animal intelligence. People often assume a cognitive ladder, from lower to higher forms, with our own intelligence at the top. Would you presume yourself dumber than a squirrel because you're less adept at recalling the locations of hundreds of buried acorns? De Waal's landmark work will convince you to rethink everything you thought you knew about animal-and human-intelligence. (barnesandnoble.com)
Introduction to the Enneagram

Introduction to the Enneagram begins on September 23, 2018, 11:45 am - 1:45 pm. The Enneagram is a powerful tool with ancient roots that offers insight into personality, spiritual struggles and gifts, motivations, and relationships with others. This is a great course for couples and individuals alike, and an excellent tool for anyone pursuing a deeper relationship with God.

For more information, contact Donna or Kevin.
Building & Grounds

You will be happy to know that your hard-working Building & Grounds Committee has been hard at work this summer, and you may be noticing a fair amount of activity here at our beautiful church.

Some of the more significant projects that are currently underway:

• The original flat roof that keeps Father Kevin and Diane, the library and the nursery dry, is being replaced. It is far past its typical life span and has been patched and re-patched many times. We thank the old roof for its many years of faithful service!
• The original underground heating oil tank is being replaced with a smaller, more modern version that incorporates contemporary safety and corrosion control features. Like the flat roof, it is long past its typical lifespan, and given our vital task of being good stewards of our land and water, this is a very important task.
• In keeping with our parallel missions to be attractive to new friends and members, and to preserve our building for future generations to enjoy, we are undertaking a campaign to clean, paint, and preserve a number of areas on the building exterior.
• Through the incredible generosity and help of our very own committee member Joe Walls, we are working to waterproof exterior areas of the foundation on the north side of the building that are in desperate need. If it ever stops raining long enough.....!

These are just some of the highlights! There are many other projects in the works, including interior painting and preservation, electrical improvements and repairs, signage improvements, just to name a few. Please take a moment to thank your hard-working Building & Grounds Committee, who are involved virtually every day to make all of these really vital projects come to life!
We're hiring an IWC Coordinator!

St. Francis has received a grant from the Diocese which will fund a part-time IWC Coordinator position to support our ongoing IWC ministry. Because a key role of the Coordinator will be to help new (and long term) members become more fully engaged in parish life, the ideal candidate will be a member of St. Francis who is familiar with our ongoing activities. The ideal candidate is also someone who enjoys getting to know others and gets satisfaction from exercising their gift of hospitality.

We would like to fill the position by the beginning of September. The formal job description is below. If you have questions or would like to interview for the position, please contact Connie Scanga to learn more.

JOB DESCRIPTION
Title:IWC Coordinator
Classification: Part-time Temporary (estimated 3-4 hours per week, outside of worship and social events)

General Function:
To support the Invite-Welcome-Connect Ministry by implementing policies, procedures and practices to improve the engagement and tracking of guests of our church, to encourage existing parishioners to regularly practice the art of effective hospitality with our guests and each other, and help connect new and established members to appropriate ministries. The IWC Coordinator will be a member of the IWC Committee.

Supervision:
The daily function of this position is largely autonomous, but is to be performed in coordination with the Rector, Parish Administrator, and Vestry Liaison for IWC. This position is supervised by the Rector in accordance with Diocesan policies and will provide monthly updates to the IWC Committee.

Position Characteristics:
Work is generally routine with some tasks being done at the church, while other tasks can be accomplished at home. In addition to the duties listed below, the Rector and IWC Committee will assist the Coordinator in identifying other duties relative to the position.

Duties and Responsibilities:

1. Attend church on a regular basis; meet guests and assist Greeters and other parishioners with welcoming guests to our church.

2. Develop, implement, and maintain policies and procedures to engage guests at worship and follow guests from their first church visit, through the Newcomer Process, and into full integration into parish life.

3. Identify, evaluate, implement and maintain a Church Guest Follow-up Software Program (or other Customer Relationship Management System) to facilitate tracking of guest visits as well as actions taken or to be taken by the church to welcome & connect guests, new members, and established but less engaged members of our church.

4. Collect, store and sort information obtained from guests by inputting information into the Church Guest Follow-up Software Program.

5. Support the pastoral work of the Rector by providing regular information about guests and IWC contact with guests.

6. Attend monthly IWC Committee meetings.

Qualifications:

1. Be "people oriented," with a willingness to engage guests and members alike through both direct and indirect contact, in person as well as by phone, card, email, etc.

2. Believe in the Mission and Vision of St. Francis Church and the Invite-Welcome-Connect Ministry.

3. Regular attendance at worship and parish events.

4. Self-motivated and proactive; able to accomplish tasks with little supervision.

5. Must have basic computer skills, including ability to assess and utilize tracking software.

Compensation: $300 per month, no benefits
Garden Update
by Mahala Renkey

. Last week we harvested 22.5 pounds of green beans, zucchini, Swiss chard, cucumbers, sage, parsley over two pickings. That brings our total for FRESH PRODUCE to 188 pounds this growing season. We are busy picking green beans and zucchini. Mahala is picking up fall seedlings to plant on August 16.

What is growing in the garden? Cucumbers, zucchini, three crops of green beans, peppers, tomatoes and a variety of herbs such as parsley, sage, oregano. If you have vegetable plants that need a home, bring them to our garden as we have some space.

Remember that we try to grow and harvest three crops for each of the six beds a season. The Food Pantry also needs more food for children. Children go hungry in the summer without having access to school lunch programs.

Weekly garden time is Wednesdays at 4 pm.
Donation to West Chester Food Cupboard

In addition to donations from our vegetable garden, St. Francis collects on-going donations of non-perishable food items for the West Chester Food Cupboard. The collection box is in the corner of the Narthex (foyer) under the coat rack. As the donation box fills up, Michelle Samet and other volunteers take donations to the Food Cupboard. Donations are welcome any time.
How can you CONNECT with St. Francis?
by Cindy Claffey, IWC Committee

The Invite-Welcome-Connect Committee encourages you to consider how you can connect with St. Francis by joining a ministry or group. Opportunities abound for members, new and old, to get involved with the social, spiritual and service activities of our parish.

The IWC Committee has published a directory of ministries, which includes short descriptions of many groups within the parish, along with time commitments, contact information, and any training or background expectations. Look for this publication on the Welcome Table and the information table at the top of the steps in the Narthex. Or check out the "Easy Opportunities To Get Involved" section on the Home Page.
Flowers on the Altar at St. Francis
Please help support the flower fund by remembering and celebrating people in your lives. It may be someone who is deceased, or someone celebrating a special event. After the 10 am Sunday service, we break down the altar flowers into bouquets that are delivered to those who are sick or need the smiles that flowers bring.
The flower donation is $50 for a week. Click
here
for the form to complete (or pick up a form at the back of the church) so we can acknowledge and celebrate your gift and people. For more information, please contact Sheila Rees.
Name Tags

The Invite-Welcome-Connect Ministry would like to remind everyone to wear their name tags. There were many important 'takeaways' from last year's I-W-C workshop and one of them was the value to visiting guests and members of wearing our name tags. This not only helps all of us identify guests who visit our church, but it also helps parishioners identify others we may not know very well. Wearing our name tags is just one of the many easy things we can do to increase the warmth and friendliness of our church, so please remember to wear yours.

If you do not have a name tag or you cannot find yours, please contact the church office. Diane will order yours free of charge.
Church Emails

Are you receiving the weekly Parish News that gets emailed to all parishioners each Friday? Do you receive the Fieldnotes newsletter each month? Are you receiving all the Special Anouncement emails? All these emails come via Constant Contact from St. Francis. If you are not receiving these emails, please contact Diane in the Parish Office at 610-647-0130. If you use Gmail, you may find the Constant Contact emails in your Promotions folder.

Pictorial Directory

Have you had your picture taken for the online pictorial directory? Having your picture in the directory is a great help for old and new members alike. It connects names and faces, increases involvement, and helps avoid some awkward and embarrassing moments!

If you have not had your picture taken for the online directory, please see David Brooks or Fr. Kevin. If you do not have access to the directory, please contact the parish office.