News and Notes
what's happening at St. Francis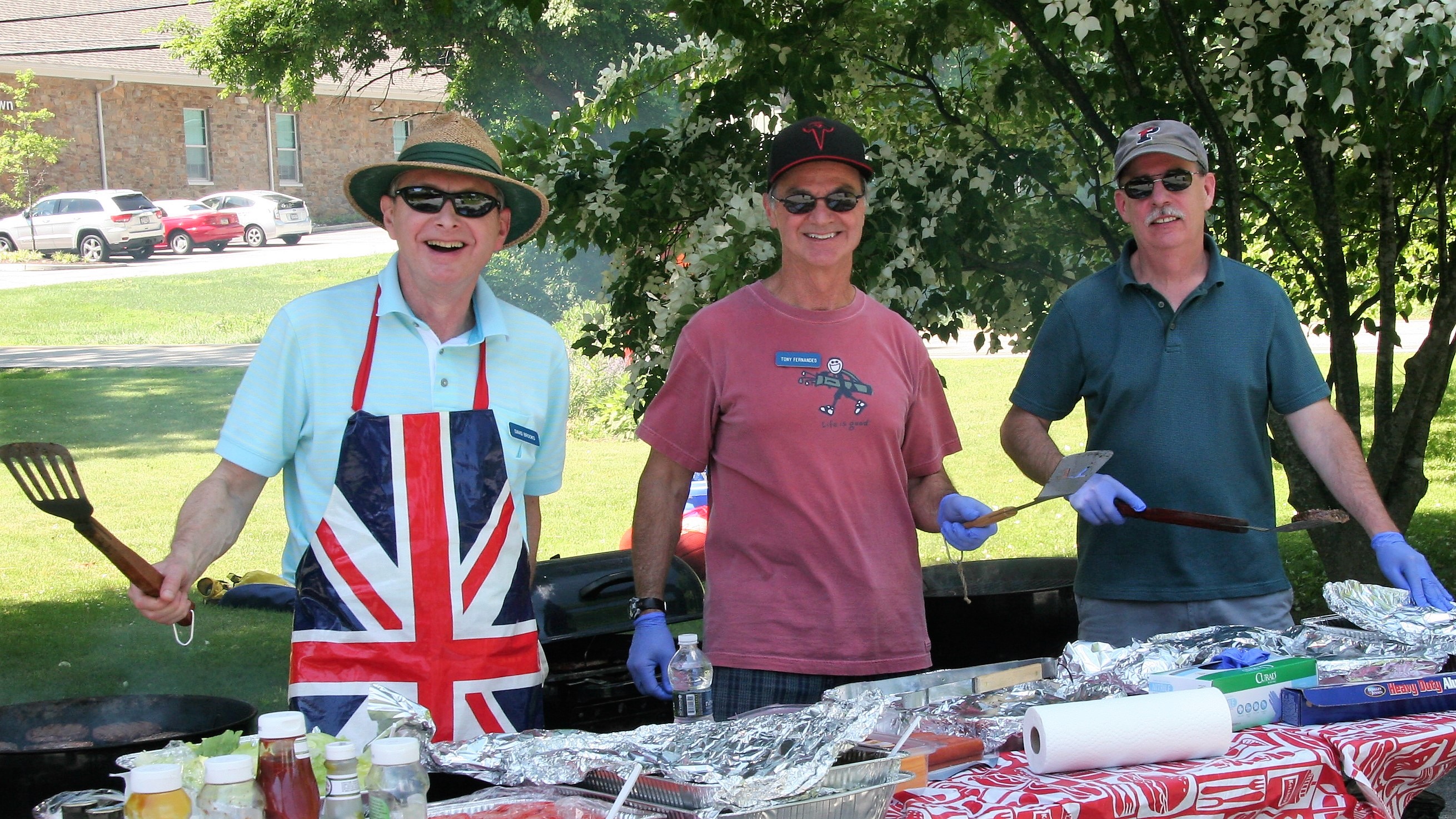 Upcoming Events
Summer Service Schedule Starts: June 10 to September 2 - one service at 9 am
Guyana America Partners International Food Festival and Silent Auction: August 25 from 11 am to 3 pm
Ongoing Events
The Rector's Study: Tuesdays at 3:30 pm (currently on hiatus)
Bible Study: Wednesdays at 10 am followed by Holy Eucharist
Choir rehearsal: Thursdays at 7 pm (choir practice will resume on September 6)
Lectionary Bible Study

Lectionary Bible Study is held each Wednesday at 10 am. The group typically reads and discusses the lectionary readings for the upcoming Sunday, followed by Holy Eucharist.

All are welcome!
Garden Update
by Mahala Renkey

We had five volunteers at the garden on Wednesday, June 13: Lynd Meyer, Laura Petersen, Carrie Friedrich, Maureen McGovern and Mahala.

We harvested 34.5 pounds of produce: 2 ½ pounds Swiss chard, 14 ½ pounds of radishes, and 17 ½ pounds of salad turnips. Year-to-date for produce is 71.5 lbs.

We also donated 9 ½ pounds of children's books. The Food Cupboard is looking for books for younger children. I had my grandkids go through the ones at our house. Ellis is going to go through the books at her house. A great way to provide good books to children that need food and reading.

So what did we do at the garden on Wednesday: We harvested and we moved the Swiss chard into one bed. We covered the cabbage with special white material from the Food Bank to keep the bugs away. We staked the sweet peas, planted peppers, sweet potatoes, cukes, green beans. We also weeded. Everyone was busy for the hour.

Weekly garden time is Wednesdays at 4 pm.
Donation to West Chester Food Cupboard

In addition to donations from our vegetable garden, St. Francis collects on-going donations of non-perishable food items for the West Chester Food Cupboard. The collection box is in the corner of the Narthex (foyer) under the coat rack. As the donation box fills up, Michelle Samet and other volunteers take donations to the Food Cupboard. Donations are welcome any time.
Guyana America Partners, Inc. International Food Festival and Silent Auction
Friends of Guyana America Partners invite you to attend an International Food Festival and Silent Auction to be held at St. Francis-in-the-Fields on
Saturday, August 25, from 11 am to 3 pm
Donation: Adults - $15.00 Children under 8 yrs - $5.00
There will be face painting and indoor games for children with entertainment by Steel Pan music. Door prizes will be presented (winners must be present to receive prize.) Proceeds to benefit education of children and disadvantaged women in Guyana. Thanks for your continued support. For more information, please
visit our website
.
Make-A-Wish Foundation recipient at St. Francis
One of our parishioners, Maria Colon, was recently featured on CBS3 in a story about the granting of her wish through the Make-A-Wish Foundation! Click
here
to watch the feature.
How can you CONNECT with St. Francis?
by Cindy Claffey, IWC Committee

The Invite-Welcome-Connect Committee encourages you to consider how you can connect with St. Francis by joining a ministry or group. Opportunities abound for members, new and old, to get involved with the social, spiritual and service activities of our parish.

The IWC Committee has published a directory of ministries, which includes short descriptions of many groups within the parish, along with time commitments, contact information, and any training or background expectations. Look for this publication on the Welcome Table and the information table at the top of the steps in the Narthex. Or check out the "Easy Opportunities To Get Involved" section on the Home Page.
Have You Seen It?

At the end of the worship bulletin each week, there are two short articles: a weekly article regarding the music of the morning written by our Music Director, Joe Perry, and a bi-weekly article on liturgy, written by Fr. Kevin.
St. Francis and the Main Line Ministerium

Did you know St. Francis participates in an interfaith community that works to promote and strengthen relationships across religious boundaries? One of several such groups in the greater Philadelphia area, the Main Line Ministerium meets once a month, and includes clergy and lay from Christian, Jewish, Muslim and other faith traditions. Gatherings focus on creating partnerships for tolerance, peace and justice in the various communities throughout the Main Line.
Flowers on the Altar at St. Francis
Please help support the flower fund by remembering and celebrating people in your lives. It may be someone who is deceased, or someone celebrating a special event. After the 10 am Sunday service, we break down the altar flowers into bouquets that are delivered to those who are sick or need the smiles that flowers bring.
The flower donation is $50 for a week. Click
here
for the form to complete (or pick up a form at the back of the church) so we can acknowledge and celebrate your gift and people. For more information, please contact Sheila Rees.
Name Tags

The Invite-Welcome-Connect Ministry would like to remind everyone to wear their name tags. There were many important 'takeaways' from last year's I-W-C workshop and one of them was the value to visiting guests and members of wearing our name tags. This not only helps all of us identify guests who visit our church, but it also helps parishioners identify others we may not know very well. Wearing our name tags is just one of the many easy things we can do to increase the warmth and friendliness of our church, so please remember to wear yours.

If you do not have a name tag or you cannot find yours, please contact the church office. Diane will order yours free of charge.
Church Emails

Are you receiving the weekly Parish News that gets emailed to all parishioners each Friday? Do you receive the Fieldnotes newsletter each month? Are you receiving all the Special Anouncement emails? All these emails come via Constant Contact from St. Francis. If you are not receiving these emails, please contact Diane in the Parish Office at 610-647-0130. If you use Gmail, you may find the Constant Contact emails in your Promotions folder.

Pictorial Directory

Have you had your picture taken for the online pictorial directory? Having your picture in the directory is a great help for old and new members alike. It connects names and faces, increases involvement, and helps avoid some awkward and embarrassing moments!

If you have not had your picture taken for the online directory, please see David Brooks or Fr. Kevin. If you do not have access to the directory, please contact the parish office.