News and Notes
what's happening at St. Francis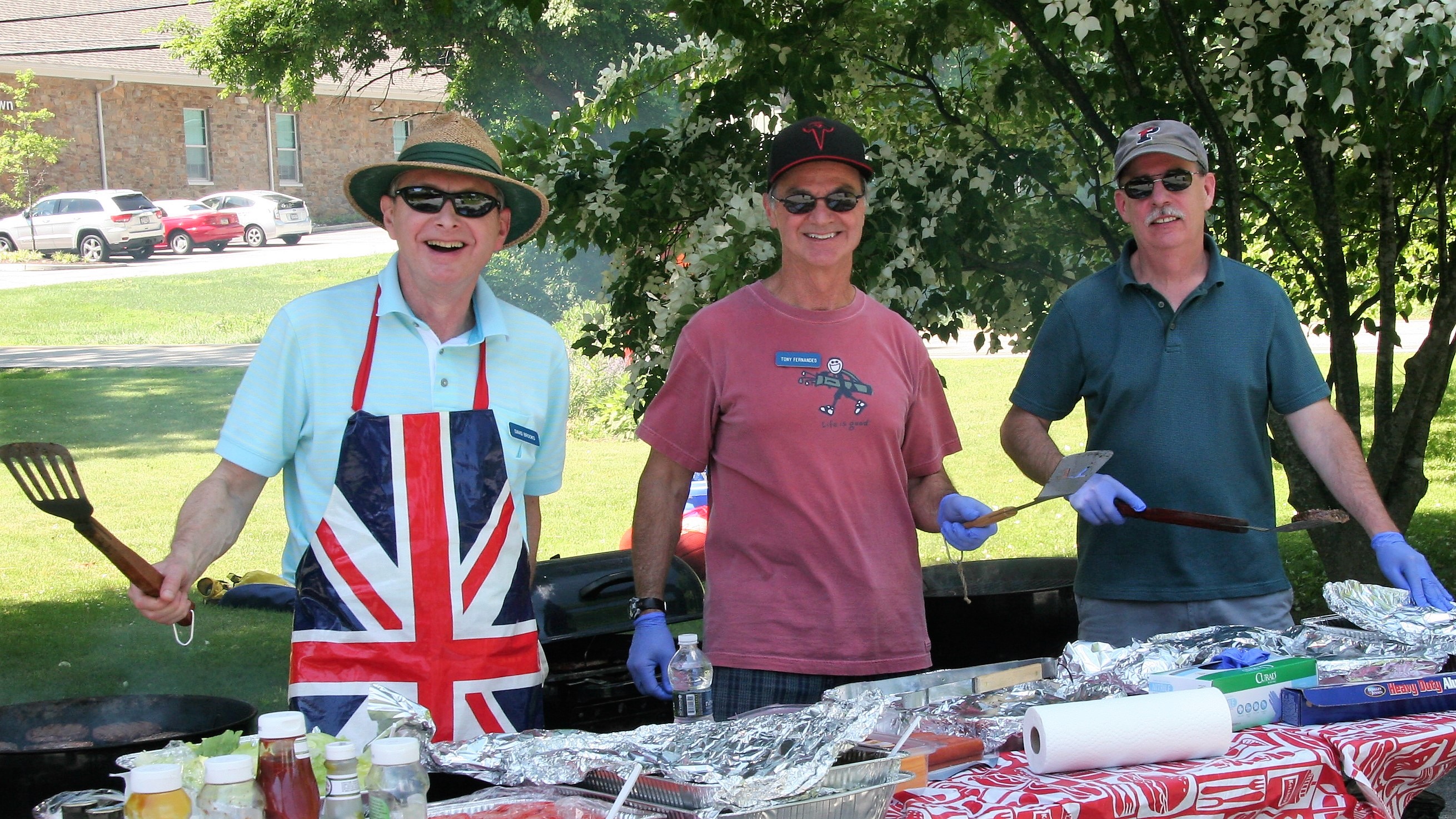 Upcoming Events
High School Youth Group: October 13 at 5 pm
Middle School Youth Group: October 14 at 5:30 pm
Book Group: October 19 at 7:30 pm
Francis & Friends Halloween Costume Party: October 26 at 6 pm
Ingathering Brunch: October 28 following 10 am service
Fellowship Dinners: November 3 in the evening at parishioners' homes
Garden Cleanup: November 4 at 11 am
Ongoing Events
Acolyte training: Sundays following 10 am service (through December 2)
The Rector's Study: Introduction to the Spiritual Journey: Tuesdays at 3:30 pm
Bible Study: Wednesdays at 10 am followed by Holy Eucharist
Choir Rehearsal: Thursdays at 7 pm
Lectionary Bible Study

Lectionary Bible Study is held each Wednesday at 10 am. The group typically reads and discusses the lectionary readings for the upcoming Sunday, followed by Holy Eucharist.

All are welcome!
The Rector's Study: Introduction to the Spiritual Journey

The Rector's Study on spirituality continues on Tuesdays at 3:30 pm. All are welcome at any time. The current topic is "Discovering Your Spiritual Type," based on a study by the late Corinne Ware. No experience required!
Book Group

The next Book Group meeting is Friday, October 19 at 7:30. Our book is Tattoos on the Heart: The Power of Boundless Compassion by Gregory Boyle Summary from Barnes & Noble: Thirty years ago, Gregory Boyle founded Homeboy Industries, a gang-intervention, rehabilitation, and reentry program in Los Angeles, the gang capital of the world. In Tattoos on the Heart he distills his experience working with gang members into a breathtaking series of parables inspired by faith.
Fellowship Dinner - NEW FORMAT!

Fellowship Dinner is a great way to get to know new and existing members of St. Francis, while having dinner in a small friendly setting at someone's home.

This year we are trying a new format for the dinners. We have set a SINGLE DATE of Saturday, November 3rd for ALL the dinners. Parishioners can sign up as a guest or to host a dinner. Once the groups have been assigned, the process is unchanged, and is described below:

The host of the group will coordinate the specifics for the dinner in their home:
• Set the time
• Provide the main dish
• Determine what the other guests will bring (salad, side dish, dessert, or wine)
The host can invite an additional guest or two to join them - a new member or anyone they would like to know better - however many the host would like.

A sign-up sheet is in the Narthex.

If you need further information on the Fellowship Dinner, email Sharon Fernandes.
Halloween Costume Party

Calling all ghosts and goblins! This fall's Francis & Friends social will be a good old-fashioned Halloween costume party, for adults as well as children. The party will be on Friday, October 26th from 6 pm to 8:30 pm. We will have games and prizes for best costumes, so let's see how creative or spooky you can be! Beer, wine, and soft drinks will be provided, but please bring an appetizer or treat to share.

Look for a sign-up sheet in the Narthex. Boo!!
Garden Clean Up

Calling all green and brown thumbs! Come help us put the gardens at St. Francis to bed for the winter and prepare them for a beautiful spring. The clean up will take place on Sunday, November 4 after the 10 am service. Food and drinks will be provided. If you have tools such as rakes, tarps, hand trowels and gloves, please bring them! This is a family affair. And all those participating are allowed to wear jeans to church!

For more information, contact Laura Petersen. We look forward to seeing you.
Team Jeff
The Quinn family is participating in the Light the Night walk once again, in memory of Jeff, who passed away from Leukemia in 2016. This inspirational and moving event is being held the evening of
October 27th
at the Philadelphia Art Museum. Funds raised benefit the Leukemia & Lymphoma Society, whose mission is blood cancer research, patient advocacy, and financial assistance. We would love to have you join TEAM JEFF and walk with us.
There will be a sign-up sheet at church, or you may use this
link
to register (it may also be used to donate).
You can call or text Jill Quinn for more information or with questions.
Wreath and Poinsettia Sale
It's time again for the St. Clares Wreath and Poinsettia Sale! Order forms are available in the Narthex or by clicking
here.
Fir wreaths are available in two sizes, 22" and 28", and the 22" wreath is available as decorated or undecorated. Poinsettias are available in red, white or pink and in four sizes: 4.5", 6.5", 8" and 10" hanging basket (hanging basket is available in red or tricolor only). There is also a white wicker sleigh with tropical plants and a red poinsettia inside - wonderful for gift-giving! All the wreaths and poinsettias are from Frysville Farms in Lancaster County.
Orders must be returned with payment by
November 4
. Checks should be made payable to
St. Francis-in-the-Fields
with the notation "St. Clares Flower Sale" on the memo line. Orders can be mailed to the church, placed in the St. Clares folder outside the church office, or given to Carolyn Grillo or Susan Callahan. All the proceeds from the fundraiser go to parish needs or community outreach projects.
Your purchase will be available for pickup in the Undercroft at church on Saturday, December 1 between 9 am and 10:30 am.
Donation to West Chester Food Cupboard

In addition to donations from our vegetable garden, St. Francis collects on-going donations of non-perishable food items for the West Chester Food Cupboard. The collection box is in the corner of the Narthex (foyer) under the coat rack. As the donation box fills up, Michelle Samet and other volunteers take donations to the Food Cupboard. Donations are welcome any time.
New acolytes welcome!!

Fall is the time when the Acolyte Ministry welcomes new team members. If you are in grades 3 to 12 and would like to join the Acolyte Team, please contact Dr. Brooks, Mr. Warren or Mr. Vanasse after church or by phone or email. We have a great group of acolytes that serve the parish each and every Sunday at the 10 am service and are always looking for more members. Training and mentoring are provided! Serving as an acolyte is a great way for young people to serve God, the parish and their community. It is also a good way to get involved in parish life and to even start developing leadership skills. If you have been wanting to get involved in the Acolyte program, now is the time to join! We would love to have you be part of the team.

Acolyte Training:
Acolyte training for all new and current acolytes will take place in the church right after the 10 am service on all Sundays from October 7, 2018 through December 2, 2018 (there is no training on November 25, 2018). Training will last for about 45 minutes each Sunday. Training is a not just for new acolytes. We want current acolytes of all ages and experience to attend training sessions to brush up on their skills, take on new duties and to help train the new and younger acolytes. This is another opportunity to serve!

Thank you to all for your support.
Mr. Warren, Dr. Brooks, Mr. Vanasse
How can you CONNECT with St. Francis?
by Cindy Claffey, IWC Committee

The Invite-Welcome-Connect Committee encourages you to consider how you can connect with St. Francis by joining a ministry or group. Opportunities abound for members, new and old, to get involved with the social, spiritual and service activities of our parish.

The IWC Committee has published a directory of ministries, which includes short descriptions of many groups within the parish, along with time commitments, contact information, and any training or background expectations. Look for this publication on the Welcome Table and the information table at the top of the steps in the Narthex. Or check out the "Easy Opportunities To Get Involved" section on the Home Page.
Flowers on the Altar at St. Francis
Please help support the flower fund by remembering and celebrating people in your lives. It may be someone who is deceased, or someone celebrating a special event. After the 10 am Sunday service, we break down the altar flowers into bouquets that are delivered to those who are sick or need the smiles that flowers bring.
The flower donation is $50 for a week. Click
here
for the form to complete (or pick up a form at the back of the church) so we can acknowledge and celebrate your gift and people. For more information, please contact Sheila Rees.
Name Tags

The Invite-Welcome-Connect Ministry would like to remind everyone to wear their name tags. There were many important 'takeaways' from last year's I-W-C workshop and one of them was the value to visiting guests and members of wearing our name tags. This not only helps all of us identify guests who visit our church, but it also helps parishioners identify others we may not know very well. Wearing our name tags is just one of the many easy things we can do to increase the warmth and friendliness of our church, so please remember to wear yours.

If you do not have a name tag or you cannot find yours, please contact the church office. Diane will order yours free of charge.
Church Emails

Are you receiving the weekly Parish News that gets emailed to all parishioners each Friday? Do you receive the Fieldnotes newsletter each month? Are you receiving all the Special Anouncement emails? All these emails come via Constant Contact from St. Francis. If you are not receiving these emails, please contact Diane in the Parish Office at 610-647-0130. If you use Gmail, you may find the Constant Contact emails in your Promotions folder.

Pictorial Directory

Have you had your picture taken for the online pictorial directory? Having your picture in the directory is a great help for old and new members alike. It connects names and faces, increases involvement, and helps avoid some awkward and embarrassing moments!

If you have not had your picture taken for the online directory, please see David Brooks or Fr. Kevin. If you do not have access to the directory, please contact the parish office.