News and Notes
what's happening at St. Francis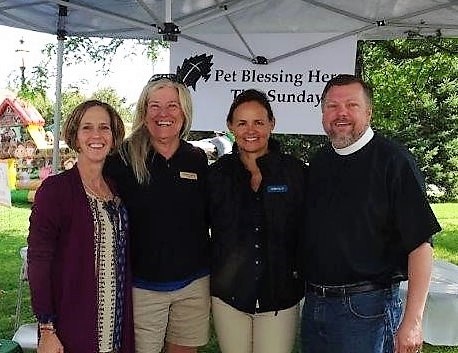 Upcoming Events
Spring Cleanup: March 24 at 10 am (rescheduled from March 18)
Brown Bag Lunch: April 3 at 12 noon
Finance Committee Meeting: April 3 at 7 pm
Vestry Meeting: April 10 at 7 pm
Buildings and Grounds Committee Meeting: April 12 at 7 pm
Ongoing Events
The Rector's Study: Tuesdays at 3:30 pm
Bible Study: Wednesdays at 10 am followed by Holy Eucharist
Choir rehearsal: Thursdays at 7 pm
Churchyard Cleanup - Postponed!

Due to potentially uncooperative weather, the Churchyard work day has been changed from Sunday, March 18 to Saturday, March 24.

Work will begin at 10 am for anyone who can spare an hour or two. Food will be provided. Bring your gloves and any tools that might be helpful. Contact Laura Peterson for more details.
Palm Crosses

On Saturday, March 24 at 10 am, you are invited to come to St. Francis to participate in the making of palm crosses. Everyone is welcome whether you have made them before or not. Come and help carry on this tradition. For more information, please call Barbara Partridge.
The Rector's Study

The Rector's Study continues its journey through the Gospel of Mark this Tuesday, March 20 at 3:30 pm. In these final two sessions (March 20 and 27), we look at the events surrounding Jesus's final days in Jerusalem, the crucifixion, and Mark's original, mysterious ending.
Lectionary Bible Study

On March 21 at 10 am, this Wednesday, March 21, the group will finish viewing the 1989 film "Romero," about the ministry and martyrdom of Archbishop Oscar Romero in El Salvador in the late '70's and early '80's. Archbishop Romero was recently approved for canonization among Roman Catholic Saints. A service of Holy Eucharist honoring his life and ministry will be held by our own Bp. Gutierrez on March 23, 2018, at St. Stephen's Episcopal Church.
Flowers on the Altar at St. Francis
Where do the flowers on the Altar come from every week? St. Francis has a dedicated group of 12 volunteers who go out, buy and bring flowers to the church and make creative beautiful bouquets to grace the Altar every week. They take into consideration the liturgical season with the accompanying colors for the frontal (the draping on the altar). For Lent with the beautiful purple frontal, our flowers are more subdued in keeping with our time of reflection. Flowers will change on Psalm Sunday with an abundance of palms and calla lilies. And at Easter, we celebrate the risen Christ with an abundance of spring flowers.
On Easter, we plan to have large bouquets on the Altar and encourage everyone to have family photos in front of the Altar after the services. We will leave the flowers on the Altar after the service for that reason. On Easter Monday, we will take flower bunches to many people in the parish.
Please help support the flower fund by remembering and celebrating people in your lives. It may be someone who is deceased or someone celebrating a special event. We deliver flowers to those who are sick or need the smiles that flowers bring. The flower donation is $50 for a week. Click
here
for the form to complete (or pick up a form at the back of the church) so we can acknowledge and celebrate your gift and people.
Help Wanted - Getting Involved at St. Francis

Our parish encourages new and not-so-new parishioners to connect with a ministry of interest. Many committee, study and prayer groups, and other ministries are open to new members. The Invite-Welcome-Connect Committee is developing an overview of all parish ministries, with detailed information on how interested members can get involved. Look for this information in the coming weeks.

The following are some specific areas to consider right now:

- Invite-Welcome-Connect (IWC) is looking for one or two new members to work specifically on event planning, such as Bark in the Park, Malvern Blooms and the Speaker Series.

- IWC is also looking for an individual(s) to maintain a photo bank of digital pictures that could be used regularly on our website and possibly Facebook and other social media sites. The volunteer(s) would be asked to sort and tag images that accurately portray the variety of ministries and members at St. Francis.

Contact Connie Scanga or Cindy Claffey for more information.
Name Tags

The Invite-Welcome-Connect Ministry would like to remind everyone to wear their name tags. There were many important 'takeaways' from last year's I-W-C workshop and one of them was the value to visiting guests and members of wearing our name tags. This not only helps all of us identify guests who visit our church, but it also helps parishioners identify others we may not know very well. Wearing our name tags is just one of the many easy things we can do to increase the warmth and friendliness of our church, so please remember to wear yours.

If you do not have a name tag or you cannot find yours, please contact the church office. Diane will order yours free of charge.
Church Emails

Are you receiving the weekly Parish News that gets emailed to all parishioners each Friday? Do you receive the Fieldnotes newsletter each month? Are you receiving all the Special Anouncement emails? All these emails come via Constant Contact from St. Francis. If you are not receiving these emails, please contact Diane in the Parish Office at 610-647-0130. If you use Gmail, you may find the Constant Contact emails in your Promotions folder.

Pictorial Directory

Have you had your picture taken for the online pictorial directory? Having your picture in the directory is a great help for old and new members alike. It connects names and faces, increases involvement, and helps avoid some awkward and embarrassing moments!

If you have not had your picture taken for the online directory, please see David Brooks or Fr. Kevin. If you do not have access to the directory, please contact the parish office.