News and Notes
what's happening at St. Francis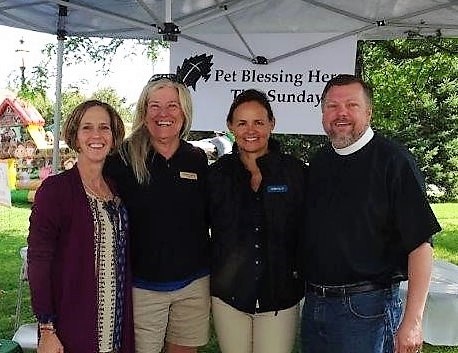 Upcoming Events
Bishop Visitation: December 17 - Confirmation and Welcoming New Members at 10 am
Backpack Project: December 17 - deadline to bring items to donate
Christmas Eve services: Family Service at 5 pm and Choral Mass at 10 pm
Christmas Day service: December 25 at 9 am
Christmas Lessons and Carols: December 31 at 9 am
Brown Bag Lunch: January 2 at 12 pm
Annual Meeting: January 28 at 11:30 am
Ongoing Events
Bible Study: Wednesdays at 10 am followed by Holy Eucharist (note: no Bible Study on December 27)
Choir rehearsal: Thursdays at 7 pm
Confirmation & Reception

Bishop Gutierrez will make his first, official "Episcopal" visit to St. Francis next Sunday, December 17, and will preside at both the 8 am and 10 am services. The 10 am Eucharist will include confirmation of 11 youth, one reception into the Episcopal Church, and the welcome of new members. A reception will follow. Please make plans to attend.
Decorating for Christmas

Volunteers needed!

Please come to church at 10 am on Thursday, December 21 and join with members of the Altar Guild in decorating the church for Christmas. We need at least 20 or more people. There is a lot to do. Wreaths need lights and bows, and we need people on ladders to hang them. The Narthex needs to be decorated, bows need changing - lots to do to welcome Christ. Please come and help us.
2018 Pledge Envelopes

The 2018 offering envelopes are available and located in the Undercroft. Please be sure to pick them up after the 8 and 10 am services on Sunday. If you do not see envelopes with your name on them and would like to have a set, contact Susan Callahan.

Thank you!
Annual Meeting

The Annual Meeting of the Congregation will be Sunday, January 28 following the 10 am service. Please put this on your calendar. More information will be forthcoming.

All reports are due in the church office, via email, by Sunday, January 14, 2018!
The Rector's Study

The Rector's Study will resume after the New Year. Information on future study topics will be coming soon!
Altar Flowers

A new process is in place for ordering altar flowers. All requests are to be made by completing an Altar Flower Dedication form and returning it with payment attached. The Altar Flower book will be removed from the back of the church as of January 1, 2018.

The cost for altar flowers is $50.

Forms are available in the back of the church and on the home page of the website in the "For Members" section. Please mail in your request with payment or put it in the offering plate on Sunday morning.

For more information, please contact Sheila Rees.
Alternative Christmas Gift Cards

The Alternative Christmas gift cards will be available in the Narthex Sunday, December 17 between the two services and after the 10 am service. This is the last Sunday to get the Alternative Christmas Gift Cards. If you need a gift for your friends, teachers, colleagues, or relatives, please consider making a donation to one of our Outreach charities and then giving the card as a holiday present. So often we don't know what to get someone and just buy anything. A charity donation honors them and really helps others in need. Checks can be made out to St. Francis in any amount with the note Alternative Christmas. You can select which charity you wish to help when you come to the table in the Narthex to get your gift cards. Should you have any questions, please see Jan or Dana Pizarro.
Proposed St. Francis Speaker Series

The IWC Committee is exploring a number of ways that we can be more inviting to our neighbors. One suggestion is to host a regular speaker series, with guest speakers making presentations at St. Francis on a variety of topics of interest to the public. Such a series would not only serve to introduce our surrounding community to our parish and its people, but would also be a community service, bringing area residents timely, topical information presented by compelling speakers.

In order to develop this new community outreach program, the IWC Committee would like parishioners to respond to two questions:
1. Are there topics about which you'd be interested in learning more? A list of possible topics is practically endless: Politics (local, state or national), world affairs, different faith traditions, trends in senior living, child rearing advice, advice on choosing a college or university, social media insights, ecology and the environment, the opioid epidemic, breakthrough medical practices or scientific discoveries, issues of particular interest to Chester County (e.g., the Mariner East Pipeline), the refugee "crisis," current cultural issues...
2. Do you know of speakers - "no- or low-cost" speakers - you'd be interested in hearing at St. Francis? Or, do you have a topic you'd like to present?

This series would differ from our Brown Bag Lunch program in that the presentations would be held on weekday or weekend evenings and would be promoted with the intent of attracting an audience of 50 to 150. The presentations would be free of charge.

Please respond with your ideas/input by December 15 by emailing David Culver. We're planning on scheduling at least two presentations in 2018 - one in the spring and one in the fall. Thanks for your thought and input.

~The IWC Committee